---
Development partners play a key role in implementing the GMS Program's initiatives. From the launch of the program in 1992, ADB, GMS governments and multilateral and bilateral development partners have jointly co-financed over $28 billion for over 100 investment projects supporting regional cooperation and integration in the GMS. Of this amount, development partners, not including ADB, contributed about one third, or $9.1 billion.
Deepening Development Partners' Engagement in the Greater Mekong Subregion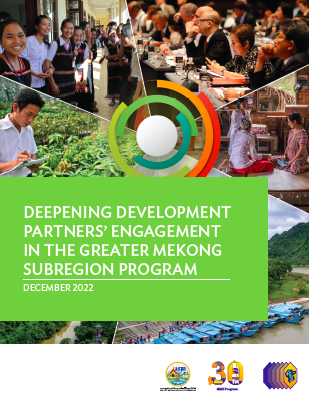 Development partners' support covers financing of investment projects through loans and grants, as well as through technical assistance and sharing of knowledge and expertise. The Greater Mekong Subregion Economic Cooperation Program Strategic Framework 2030 (GMS-2030) has called for the program to undertake work in new, innovative areas and to further emphasize themes that cut across its activities, such as migration, digitalization, gender, and trade and investment. Development partners can help the GMS Program in these emerging areas with their knowledge, expertise, and experience. At the same time, the financing needs in the GMS Program remain large and are likely to grow as the program expands to incorporate new areas and investments to promote green infrastructure for greater climate resilience.
Currently, development partners' engagement in the GMS Program is largely through the Annual Development Partners Meeting—often held back-to-back with the GMS Ministerial Conference, where the partners are also invited to make brief statements on their support and areas for alignment of cooperation. While this venue allows them to reiterate their support and outline their program in the subregion, the ambitious scope of the new GMS-2030 entails going beyond the existing processes and identify actions and mechanisms for deeper collaboration.
7 Things to Know about the Development Partners' Engagement in the GMS Program
Adapted from the "Overview of Development Partner Engagement in the GMS Program," Deepening Development Partners' Engagement.
1. Development Partners of the GMS Program represent an impressive diversity, including multilateral institutions, bilateral cooperation agencies, academe, research institutions and other development organizations.
2. The annual Development Partners' Meeting (DPM) is the key forum for development partner participation in the GMS Program. GMS member countries participate in the DPM at the level of senior officials of the program.
3. In consultation with the host country for the GMS Ministerial Conference and the DPM, some development partners are invited to make brief statements at the DPM on their activities and support to the GMS Program. The DPM statements are typically focused on current and forward priorities.
4. Development Partners have extended broad support for the GMS Program across all its sectors and themes. Certain areas stand out—environment sustainability, connectivity, in the form of transport and energy infrastructure, and digitalization—reflecting higher priority for the community. "Software" issues such as trade and transport facilitation are also increasingly recognized as important complements to the hard infrastructure investments of the GMS Program to date. Private sector development and gender issues also emerge as crosscutting focus areas for several partners.
5. Some Development Partners are active across the entire GMS region while others have higher priorities for a subset of GMS countries, such as Cambodia, the Lao People's Democratic Republic (Lao PDR), Myanmar, and Viet Nam, given their development challenges (though this is currently constrained in Myanmar).
6. Development Partners engage the Program through different modalities, ranging from (a) direct program/project financing or cofinancing with other development partners, through loans and/or grants; to (b) project preparation loans or technical assistance through their respective multilateral/bilateral facilities and/or trust funds; (c) technical, policy and advisory support; (d) capacity building, including project implementation support; and (e) knowledge products.
7. Transport and energy sectors predominate the GMS Program's investment portfolio and are also of significant interest to the development partners. Both sectors also have a good number of development partners participating in their working group meetings. Development partners also regularly participate in the tourism sector working group.
Past Development Partners' Meetings